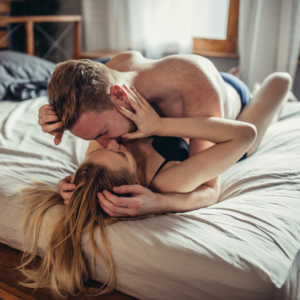 Pursuers become burned out after being turned down time and time again… This rejection causes them to lose their confidence and be more cautious. How can men get back their sexy confidence and energy that women crave?!
Great sex NEEDS communication! Pursuers have to change their relationship to getting feedback- welcoming it instead of perceiving it as criticism and pushing back. 
Men need to champion themselves internally with affirmations- talk yourself up, you handsome devil!
Take charge like a 21st century pirate- with communication and strong energy!
Borrow some mojo from other roles in your life where you do feel confident and in your element!
Fantasize about a different, more confident you…Rocky in the bedroom! The pirate, the caveman!
Listen to Laurie and George talk about the ways that men can get their mojo back after being shot down…