REGISTER NOW
Great Love & Great Sex Couples Retreat
(Via Zoom)
Fall in love again.
Rediscover desire.
Rebuild trust.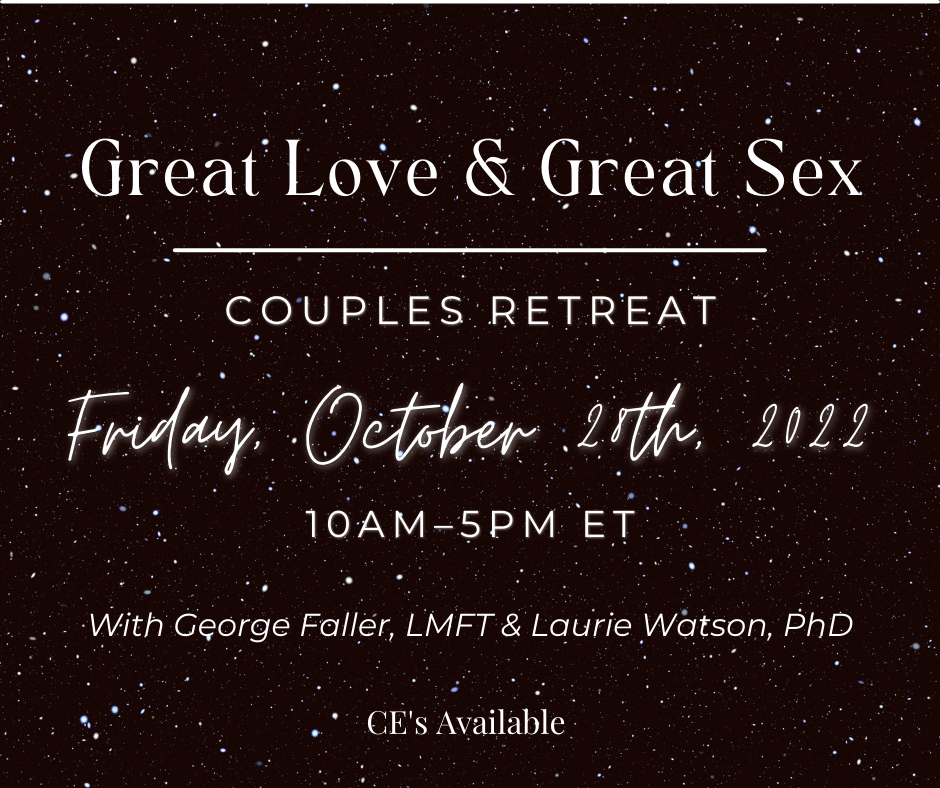 ***If you have registered, PLEASE check your JUNK email folder!!!***
(For Zoom link and retreat homework – we are having issues with our emails going to junk mail.)
♥ Has your marriage or partnership become functional but not exciting and loving?
♥ Do you want to deepen your connection and improve intimacy with your partner?
♥ Is sex something to just check off your list now?
♥ Have you been trying to get that "sizzle" back?
♥ Do you want to want to break the negative emotional and sexual cycles in your partnership?
We invite you to explore the way your relationship can be changed by understanding your cycle and finding tools to get reconnected- emotionally and sexually. Consider spending a whole day to focus on enhancing your relationship, intimacy, and understanding of each other. Join Foreplay co-hosts Laurie Watson, PhD, LMFT and George Faller, LMFT. Expert teaching, fun exercises with just you and your partner!
The workshop will be a safe place for just you and your partner to discuss issues around your sex life and intimacy. We're going to talk about desire, arousal, and orgasm in men and women as well as where we differ. We'll discuss great sex and what it means and give you exercises to improve how your mind, body, heart, and spirit can be more involved so that you and your partner can find deeper connection.
Examining how sexual pursuers and withdrawers feel about sex and how the cycle between them can frustrate both, George and Laurie will talk about how resolving this dilemma can improve a couple's bond. Lastly, we'll discuss how having a safe conversation of looking at things from your partner's perspective can increase vulnerability and create change in your relationship!