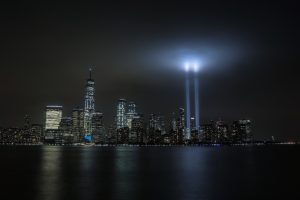 Where were you on 9/11? We all remember. It's been 20 years.
Most of us were stunned, watching the twin towers fall – but George was with the FDNY rushing to Ground Zero, following his training, following his instinct to get people out of there.
Listen as he shares about the worst of times – the horror of the day and months to come, searching for people who were still alive and finding none. And the best of times – the support and love that people poured out to the first responders, to their neighbors – the cohesion of a community and a nation united. "There's value in pain if we face it with others." – George Faller
Today, we honor George and all the first responders who ran toward the danger. We send gratitude and peace to Kathy Faller for watching her young husband leave in the midst of chaos, not knowing what would happen and for holding down the fort afterwards. To both of them, we celebrate that in the midst of fear, they could turn towards each other and find comfort.
G – we love you! thank you for your vulnerability in sharing with us.